Concealer is by far the most underrated hero of the makeup game. When asked to make a list of our favorite makeup items, most of us would never place concealer on that list. However, no makeup guru or junkie could ever live without concealer. Interesting, right?
Aside from concealer being so underrated, there are a few concealer hacks that can change the game of makeup. In my makeup routine, I didn't use concealer for a long time. I am unsure of whether that was due to my young age or if I didn't really know I needed it. Either way, when I finally did see the magic of concealer in my mid-twenties, it was love at first application.
It was as if I suddenly understood why everyone looked a little more 'perfect' or clear when they wore makeup. I had been missing a crucial step this whole time! With my newfound love for concealer, I now felt that I had a secret weapon in my daily makeup arsenal, ignoring the fact that everyone else had already been using this secret weapon for years.
Through playing with concealer and experimenting with what it could do for my makeup routine, I learned a few tips and tricks. If you are looking to maximize your concealer game or are simply looking for other uses for concealer, here are eleven game-changing hacks you will not be able to live without:
1. Apply in Triangles instead of Half-Moons
Many people are taught to apply in a half-circle shape under your eye, but that is not the best way to use concealer. Instead, as taught by Minq.com, the best way to apply concealer is in a triangle shape extending down from the under-eye area. When blending this, it will look more seamless instead of giving the illusion of raccoon eyes.
2. Use A Concealer Brush.
The founder of Real Technique makeup brushes Nic Chapman raves about investing in a synthetic concealer brush to apply concealer. She added that this is really important to work the product into the skin and create a flawless finish.
3. Apply Foundation First, then Concealer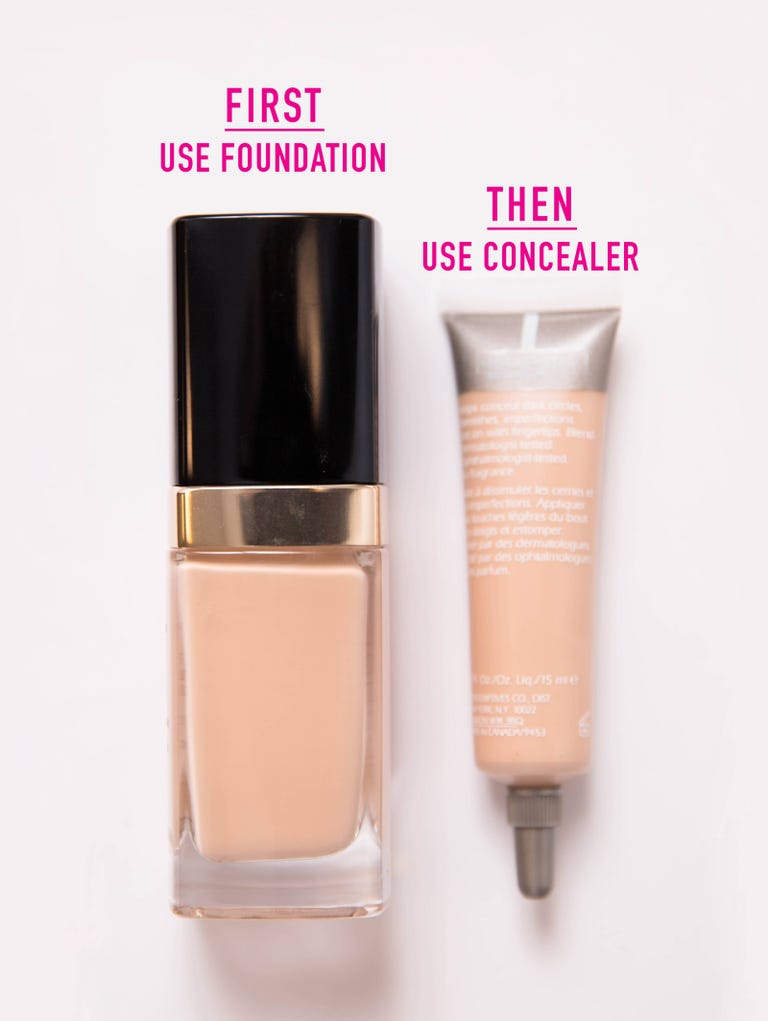 If you use foundation, it is important to apply your foundation before you apply any concealer. This even helps to reduce the amount of makeup concealer you actually need to use. Along with that, if you put it before foundation, you will end up removing most of your concealer when applying the foundation.
4. Prime Your Eyelids with Concealer to Avoid Fallout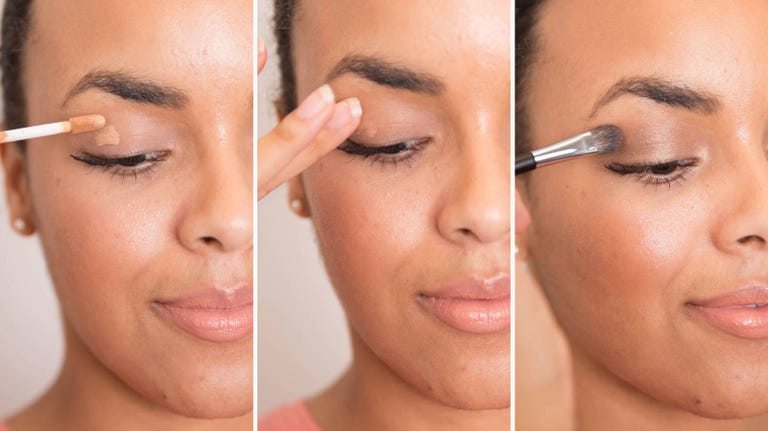 If you don't like it when your eyeshadow falls from your eyelids or settles in the creases but don't want to spend more on an eye shadow primer, concealer does the job just as well. Product in this look: Diorskin Star Concealer in "Sand"
5. In the Case of a Pimple, use Green Concealer First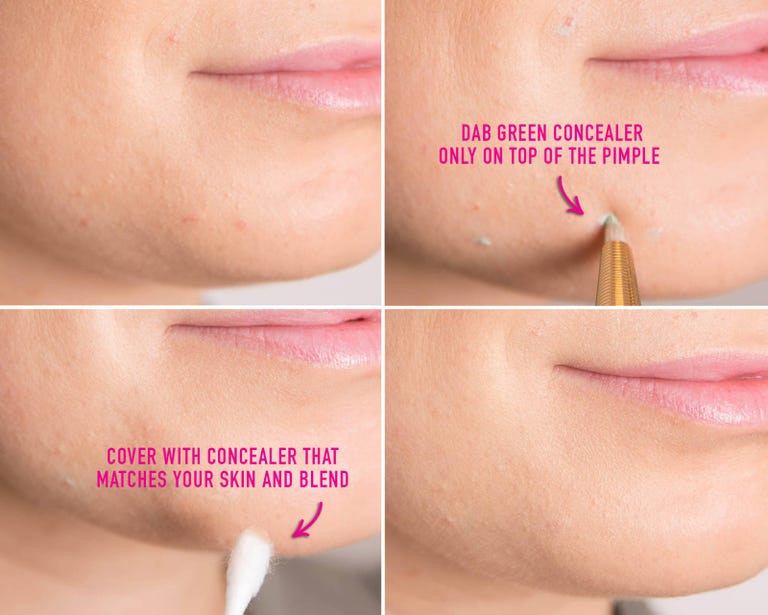 If you are trying to cover up breakouts or a pesky pimple, it is always helpful to use a green color-correcting concealer first then use your tone of concealer on top of that in order for it to blend into your skin smoothly. Make sure to use a clean brush on the pimple only to avoid bacteria then use a cotton swab with your high-coverage concealer to camouflage the pimple. Blend it in then finish it off with setting powder! Products in this look: NYC Color Cosmetics Cover Stick in "Green" and Pacifica Natural Minerals Transcendent Concentrated Correcting Concealer in "Natural"
6. If you have a pimple on your chest or back that you need to conceal, cover the trouble spots with a concealer that matches your skin tone exactly, and then top it with a translucent powder.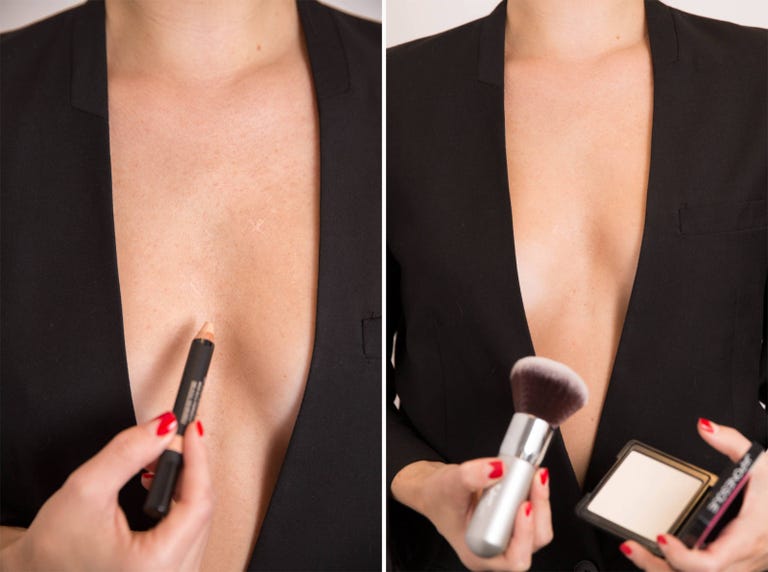 Continue to alternate concealer and setting powder until the blemish is undetectable. The concealer will hide the blemish and the setting powder will prevent it from wearing off. Products in this look: Nudestix Concealer Pencil Crayon Correcteur in "Light 2"; Japonesque Velvet Touch Finishing Powder; andIt Cosmetics Brushes for Ulta Airbrush Essential Bronzer Brush
7. If you find yourself without concealer, place a small dot of liquid foundation on the area, wait a few minutes for the formula to set, and then lightly blend it out.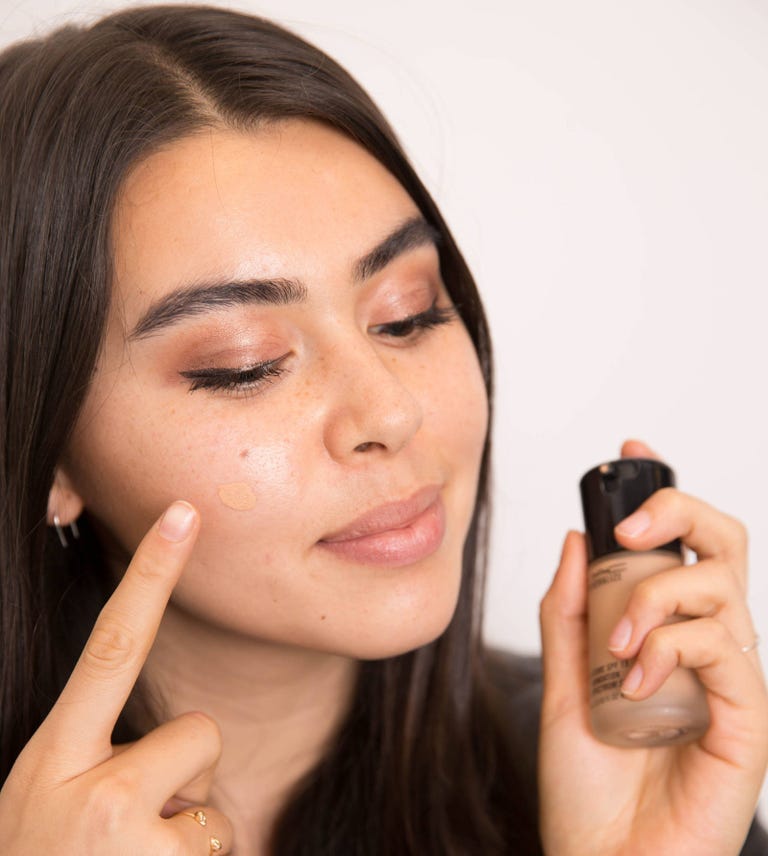 The trick is to wait until the foundation dries and thickens a bit (it will eventually reach the consistency of concealer) before trying to blend it. If you blend it too soon, the foundation will be sheer and rub off, leaving you with very little coverage. Product in this look: MAC Cosmetics Mineralize Moisture SPF 15 Foundation in "NC 40"
8. Use a concealer that's slightly lighter than your skin tone to line three tiny sections of your eyes: the inner "V," the middle section of your eyelid, and just below your brow bone.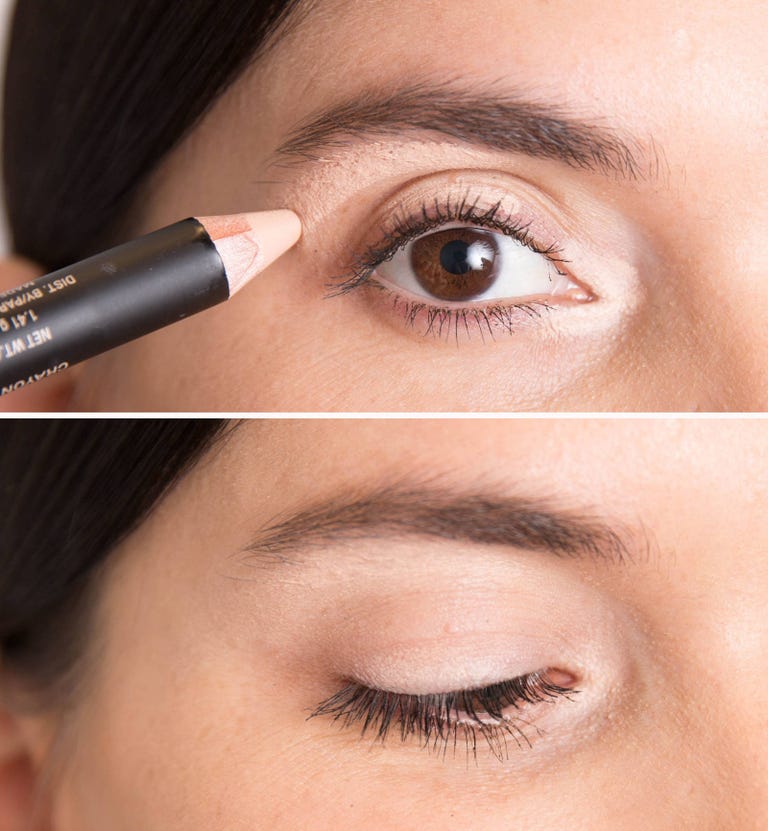 Lightly blend for instantly well-rested eyes and a highlight that looks natural. Great for days when you didn't get enough sleep (or are just hungover). Product in this look: Nudestix Concealer Pencil Crayon Correcteur in "Light 2"
9. Dab an orange- or peach-colored concealer over dark under-eye circles with your ring finger.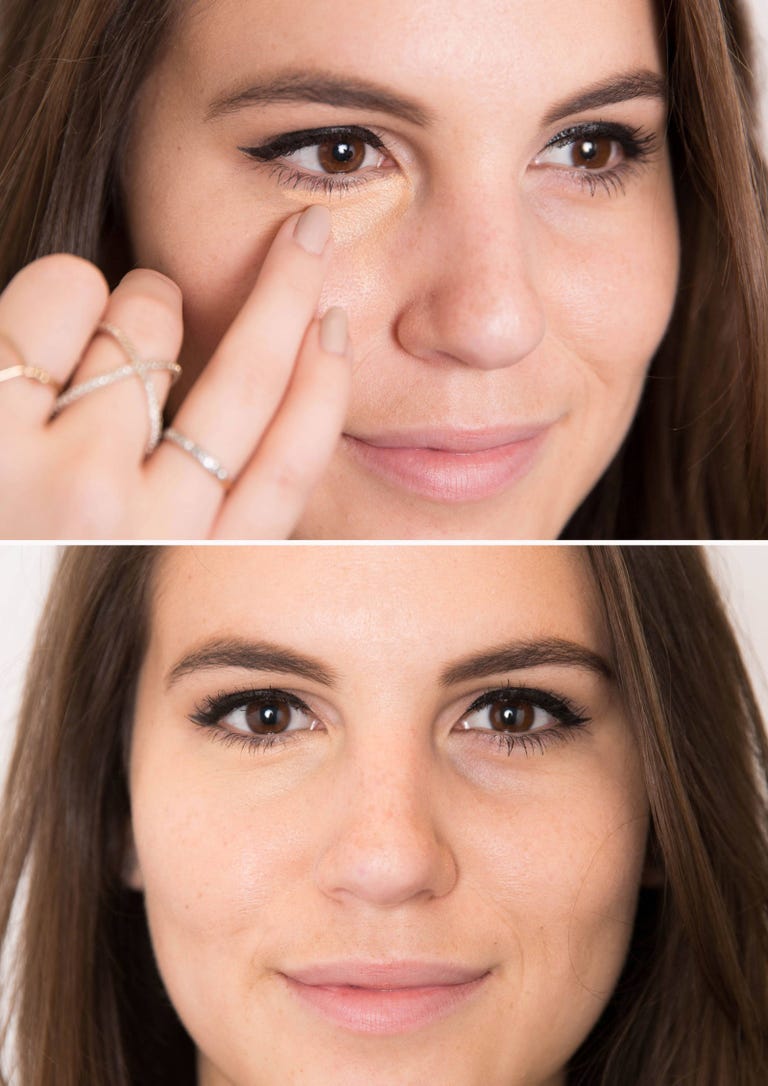 Your ring finger, which is your weakest, will apply just the right amount of pressure to blend in the concealer without pulling at your delicate eye skin, and the orange or peach tones will cancel out the blue shadows that your under-eye circles give off. Top the orange or peach formula with a cover-up that matches your skin. Product in this look: Youngblood Ultimate Corrector.
10. Know what issues different colors of concealer fix.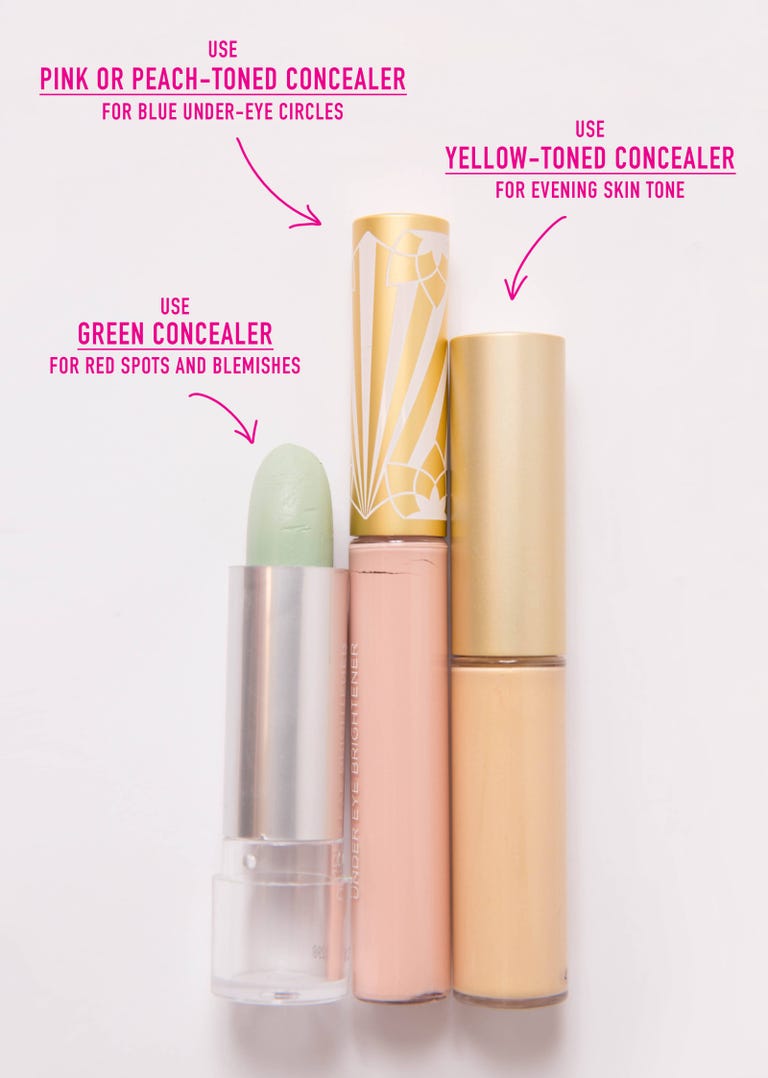 Peach shades cancel out blue circles or bruising, green hide red blemishes, and yellow-toned concealers correct almost all uneven skin tones.
11. Hide puffy eyes with a bit of eye cream, highlighter, and concealer.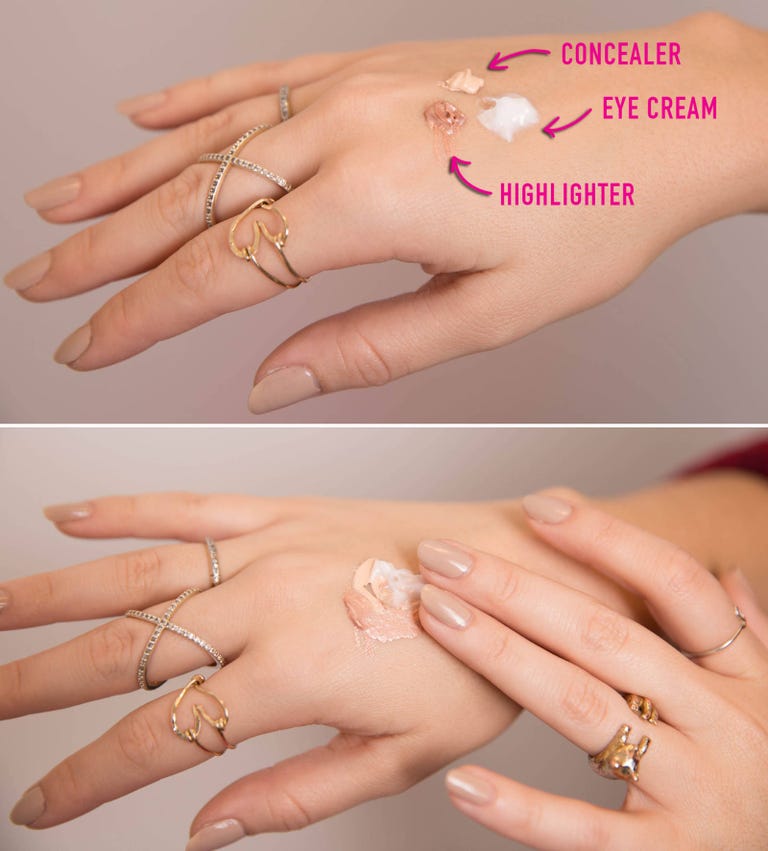 Mix products on the back of your hand. Then apply the mixture under your eyes, on the outside by your temples, and over your brow bone to brighten the area and hide puffiness.